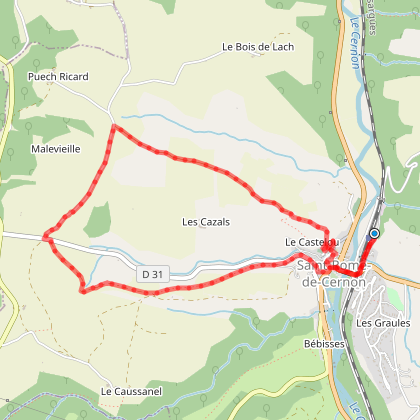 Enjoy a touch of southern atmosphere between Larzac and Lévézou
This pastoral breakaway which takes place on the upper part of Saint-Rome-de-Cernon is very easy to get to and offers to walkers a view over this village located at the crossroads of roads and hilly areas.Starting point and finish of the hike are located at the carpark, which is on the left side when watching the castle. Walk across a small square and right at the first street (rue du château) take left for approximately 40 m. When reaching the fountain, take to the right the D999 for 40 m. Before the petrol station, take right and walk along the church an ascending slope. Keep on going for 100 m       up to the D31, follow this road for 50 m, and then take a tarred track for 300 m. Right at the first tarred hairpin bend to the left, carry straight on the dirt track. The path first goes through a wooded section then leads to a plateau. Take right up to the D31 and walk across the road to the left. Turn immediately to the right on a tarred track towards Puech Ricard. Carry straight on for 800 m, leaving to your right the road that leads to the Cazals farm. 500 m further, look up at the lavogne (a paved pond to water the flock of sheep). Walk for 200 m and leave to your left a stone cross.    200 m further, fork to the right and take a stone path towards St-Rome-de-Cernon. Keep walking up to a steep path overlooking Saint-Rome and enjoy the panoramic view. Walk to the left side of the castle and the "old graveyard", then follow to the left a cemented path and you're back to the carpark, the starting point of your hike.
5.5 km

max. 550 m

min. 400 m

193 m

-184 m

Altimetric profile
Lodgings nearby
Starting point
Lat : 44.013027
Lng : 2.964479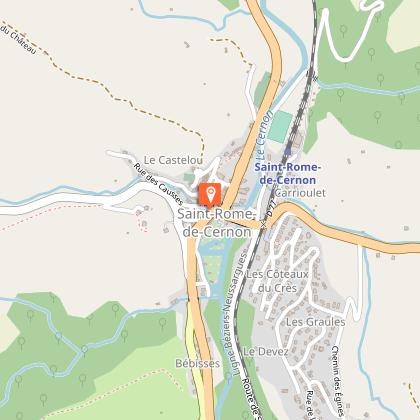 1
La commune de Saint-Rome de Cernon résulte de la fusion réalisée en 1840 de l'ancienne commune de Montclarat avec celle de saint-Rome de Cernon. L'homme a choisi le territoire de Saint-Rome comme lieu d'habitat dès les temps préhistoriques, grottes de Sargels, dolmens du bois de Laumière. L'occupation humaine s'y est poursuivie aux époques romaine et médiévale, comme en témoignent de nombreux vestiges : châteaux de Saint-Rome, Mélac, Montclarat et Laumière. Le village actuel s'est développé à la fin du 18ème siècle, lors de la construction de la route d'Albi aux Cévennes et au 19ème siècle, construction du chemin de fer. Le bourg devint le siège de foires importantes et de nombreux commerces florissants.
Saint-rome-de-cernon
Lat : 44.0122
Lng : 2.96405
n/a m
1 informations complémentaires
Departure
Parking de la Passade à Saint-Rome-de-Cernon